Grand Island Sesquicentennial

1952 Grand Island Grand Prix
Visit our Sesquicentennial Page
Sesqui Motor Events
Photography by Roy Straley
Courtesy of Chuck Brancato
---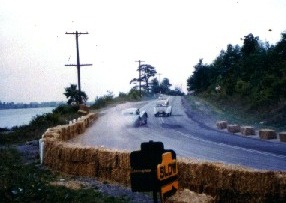 Grand Prix Sportscar racing for foreign and domestic sports cars was scheduled from 12:30 - 6:30 p.m. on Saturday, August 30, 1952 and staged by the Centennial Committee and Sports Car Club of America's Red Jacket Chapter of Buffalo. The race course, closed to spectators at 11 a.m., encompassed Harvey, Whitehaven and East River roads. The event was co-chaired by Jerry Thirion and Ollie Howard and 73 cars and drivers competed.
"Racer Hurdles Crowd and Lives," was the headline in the August 31, 1952 edition of the Buffalo Courier Express. Other headlines included, "Spear wins grand prix before 100,000" (Bill Spear, Southport, CT), and "Southport driver victor by 30 ft." According to another report, "Richard Thierry, 29, of Norwich, CT, in a spectacular accident in yesterday's grand prix, possibly swerved his German Porsche to miss hitting a woman pedestrian. Thierry's German sports car hurtling at a speed of 110 mph, careened out of control, flipped in a somersault over the heads of spectators lining the road, and landed upside down on a parked car more than 20 feet away."

The following photos were taken during the 1952 Grand Prix races held during the Grand Island centennial celebration.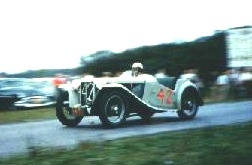 Car #42, a 1952 M.G./TC at speed heading down East River Road driven by Robert Davidson of Buffalo, NY.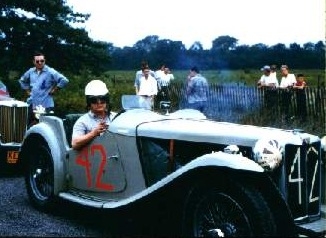 Bob Davidson sitting off the course with his engine smoking and a not to happy look on his face. Note the leather strap holding his hood down and the copious amount of tape on his headlights to prevent errant stones from flying up and breaking them.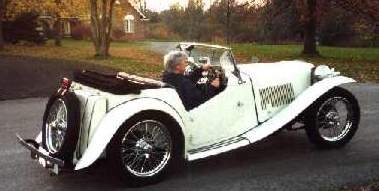 Lyn Laman driving her 1948 M.G. T/C on the same race course 50 years later. Although no pictures of Lyn's car in the race survive, the car did participate and is one of the few known survivors to exist. The car was driven in the race by Fred Woodmansee of Buffalo.
Lyn's husband Carl purchased the then supercharged T/C in 1953. The car was still competing in races such as the Holland hill climb and Watkins Glen when purchased.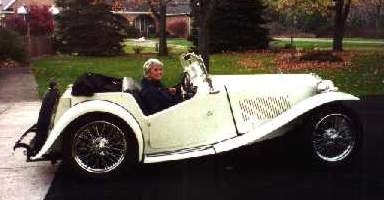 Carl drove the car year round until 1958, winter weather and road salt having exacted its predictable toll. In 1958 Carl began the restoration process but passed away in 1988 never realizing his dream. The little M.G. was literally in bushel baskets and someone had stolen the supercharger when it was turned over to Pete Butler and Jim O'Connor. Pete meticulously restored the body and chassis while Jim did the same to the drive train resulting in the beautiful example you see here.



Lyn's M.G. along with the 1947 M.G.T/C of Jack Cudmore and the 1949 model of Herb Forbach will be participating in the Saturday, July 27th, 2002 reenactment of this historically significant race. Anyone having a vintage racer up to 1962 is invited to participate in the car show to be held on Saturday, July 27th and the race reenactment on Saturday, July 27th. We are allowing cars up to 1962 in order to get a field large enough to make the event a fun time. See the entry from on the website. There is no charge for cars that participate in the event.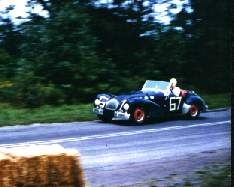 A Lincoln Allard, #67 screams around a corner on East River Road heading for Harvey Road. These cars were shipped to the U.S. without engines leaving that choice to the owner.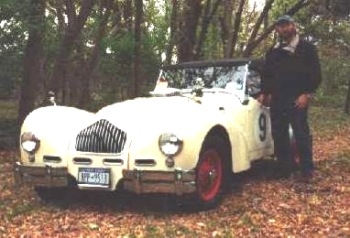 This Lincoln Allard has been painstakingly restored by it's current owner Gary Dreyer of Williamsville, NY. Gary can be seen driving his prize during nice weather just "cruzin" or going to a show.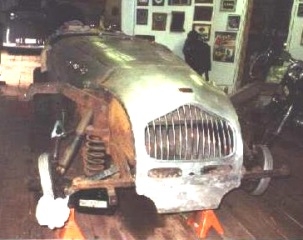 Gary's latest restoration project, the more oft occuring Cadillac powered Allard. Look for Gary and his Allard as it rounds the corners in the July 27th, 2002 reenactment.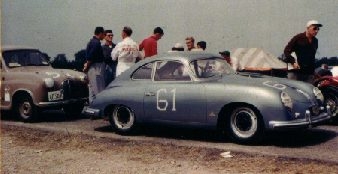 The only Porsche in the 1952 race eventually met its demise. #61 driven by Richard Thierry, 29, of Norwich, CT, is shown waiting for the start of the race.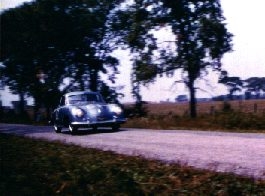 Thierry is shown blasting down Whitehaven Road at speeds in excess of 110 M.P.H. He left the road at close to this speed either to avoid a pedestrian or due to a severe dip in the road in the vicinity of Spicer Creek.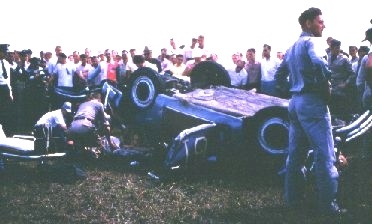 At this point the car flipped, became airborne and launched itself over the crowd and crashed onto it's roof. A registered nurse was among the spectators and is shown extricating Mr. Thierry from the wreckage. Fortunately no one in the crowd was injured and Thierry survived his injuries. Unfortunately, Thierry perished a short time later. Crowd control was somewhat of a problem during the race since 90,000 people over the expected 10,000 showed up for the race.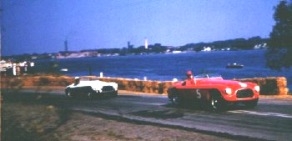 The #5 Ferrari driven by James Kimberly of Kimberly & Clark, leads the eventual winner, Bill Spear of Southport, CT also in a Ferrari, exiting the turn at the ferry landing. These fine examples of racing automobiles would fetch close to several million dollars each today.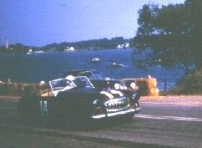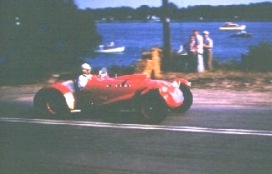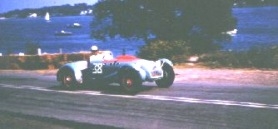 A Nash Healey and two older models of the powerful Allards round the turn at the ferry landing.





The following are examples of the 17 Jaguar XK-120's that showed up to race.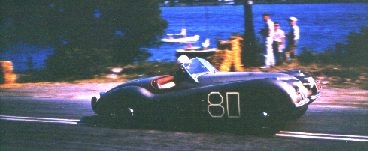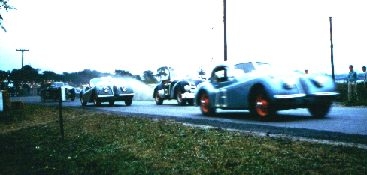 ---
---
Other Grand Island Pages to Visit:
| Businesses | Churches | Email Directory | Government | Groups | GIHS Gradlist | Guest Book | Please sign in! | Local Artists | New! Photo Album | Recreation | Schools | Seneca Law Suit | Town History | UsefuLinks
| Weather | | Website Design | Wildlife | Home Page - Frames

Please Email News Releases to Teddy Linenfelser, Thank You.


This website is sponsored by
GIECOM.NET
1869 Whitehaven Road, Grand Island, New York, 14072-1803 USA


Copyright © 1995-2002 All rights reserved.