Grand Island Artisans and Crafters
---
The goal of this page is to promote Grand Island Artistans and Crafters. If you are or know of a Grand Island artist/crafter please e-mail or call us 773-6789 so we may update this page. There is no charge for this service.
Note: If you would like to be added please e-mail
---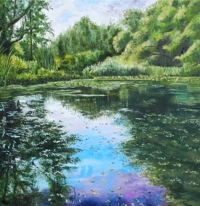 Michael Cancilla
I am a former member, Vice President and President of the Grand Island Art Society. I have lived on Grand Island for 34 years. You may view my works at www.michaelcancilla.com.
---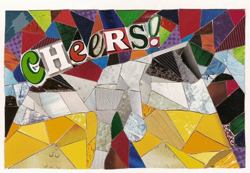 Jon Bender
The works are mosaic styled collages in various sizes made from recycled packaging. The works use various popular quotes and are divided currently into two themes: environmental and beer. Email

---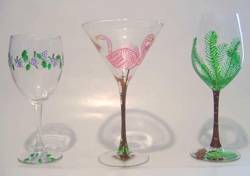 June Malonek
Handpainting of glassware and acrylic, custom orders or a wide selection of original designs available. Email
June's Studio
5605 East River Road
Grand Island, NY
---
Other Grand Island Pages to Visit:
Churches | Email Directory | Government | Groups
GIHS Grad List | Guestbook | Please sign in! | Local Artists | Photo Album | Town History | Useful Links
| Website Design | Wildlife | Isledegrande's Home Page | GIECOM.NET'S Home Page
Please Email News Releases to Teddy Linenfelser, Thank You.

This website was created and updated weekly since September of 1997.
Our sponsor is GIECOM.Net Inc., "Grand Island's E-Commerce Network",
providing Webhosting to the Grand Island Community.
If you are interested in participating as a sponsor, please email.
1871 Whitehaven Road, Grand Island, New York, 14072-1803 USA

GIECOM.Net Inc. is owned by deSignet International
a "World Class Jewelry Manufacturer and Retailer"
Store Hours: Monday - Friday 9 am - 5 pm
Saturday 8 am - 2 pm, and by Appointment

1869 Whitehaven Road, Grand Island, New York, 14072-1803 USA, 1-888-RARU.COM
Copyright © 1995-2013 All rights reserved.





<! ~~~~~~~~~~~~~~ New Tracker Code Below -- -- --~~~~~~~~~~~~~~~~~~~~~~~ >