Grand Island Artisans and Crafters
---
The goal of this page is to promote Grand Island Artistans and Crafters. If you are or know of a Grand Island artist/crafter please e-mail or call us 773-6789 so we may update this page. There is no charge for this service.
Note: If you would like to be added or are interested in having us host your website please e-mail or call Jodi at Giecom.net at 773-6789 We also offer website design services.
---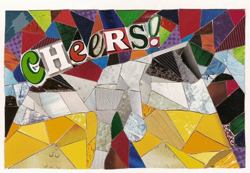 Jon Bender
The works are mosaic styled collages in various sizes made from recycled packaging. The works use various popular quotes and are divided currently into two themes: environmental and beer. Email

---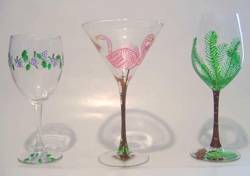 June Malonek
Handpainting of glassware and acrylic, custom orders or a wide selection of original designs available. Email
June's Studio
5605 East River Road
Grand Island, NY
---
Bob Kopf

Photos:1of 9
Bob Kopf is a professional graphic designer & photographer at deSignet International. Even though he is known among deSignet's customers as a talented designer of their custom jewelry, his hobbies include a wide variety of arts. You may contact him via E-Mail or call : 1-888-727-8266.
---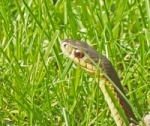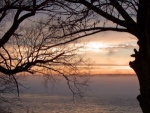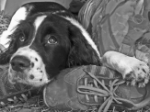 Kim Ludwig (Rolling Meadow Studios)
ludnut@roadrunner.com - (716) 773-6905
Kim Ludwig's Petography and Greeting Card business includes 5x7 cards, blank inside with humorous and unique titles on the back of each card. Each card comes with an envelope and individually wrapped in a clear, photosafe bag.
I am interested in promoting my work at Isledegrande.com to enable customers to purchase the cards. As suggested by my customers, I added many Grand Island and nature cards to my collection. Since my passions are photography and animals, I am excited to announce that I am available to photograph your pets!! Your choice of location. I take a wide variety of poses and offer many different choices and effects for prints. Being an animal lover and having lots of patience, this reflects in the final outcome of my portraits!
Cards are $3.00 each.
---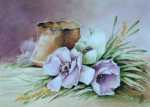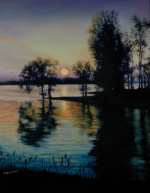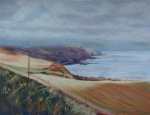 Bernadette Carminati Franklin
Bernie works in oil, watercolor and pastel.She is represented by Partners in Art Gallery, North Tonawanda, NY (716-692-2141) or may be reached by E-Mail. She is a member of the Grand Island, Williamsville and Kenmore Art Societies and the Fine Arts League of Buffalo. Commissions accepted.
---
Judith Hiam
Judy is a self taught painter who has enjoyed art since she was 8 years old. E-Mail Judith if you are interested in her work.
---
George Minton
George Minton is an accomplished oil painter who specializes in Irish Landscapes and Events. He is a member of the Grand Island Art Society and the Fine Arts Society of Buffalo, New York.
Pictures may be ordered by calling (716) 773-7425 or by writing to :
Mr. George Minton
1335 East Park Road
Grand Island, NY, 14072
16 x 20 Framed - $200.00, larger sizes on request.
---
Lincoln Nutting
A naturalist photographer, Mr. Nutting has devoted his retirement to the study of nature and photographing wildlife and wild flowers and has won many awards. Over the years he has been a member of: Buffalo Audobon Society , the Nature Conservancy - WNY Chapter, Buffalo Ornithological Society, Niagara Frontier Botanical Society, Buffalo Society of Natural Science, and the Grand Island Art Society. He also teaches classes in photography and general nature in the Adult Education Program on Grand Island.
Pictures may be ordered by contacting :
Mr. Lincoln Nutting, 3722 East River Road,Grand Island, NY 14072, or calling 1(716)773-7215
Available pictures sizes: 5x7, 7x10, 14x20, 17x24
---
Other Grand Island Pages to Visit:
Churches | Email Directory | Government | Groups
GIHS Grad List | Guestbook | Please sign in! | Local Artists | Photo Album | Town History | Useful Links
| Website Design | Wildlife | Isledegrande's Home Page | GIECOM.NET'S Home Page
Please Email News Releases to Teddy Linenfelser, Thank You.

This website was created and updated weekly since September of 1997.
Our sponsor is GIECOM.Net Inc., "Grand Island's E-Commerce Network",
providing Webhosting to the Grand Island Community.
If you are interested in participating as a sponsor, please email.
1871 Whitehaven Road, Grand Island, New York, 14072-1803 USA

GIECOM.Net Inc. is owned by deSignet International
a "World Class Jewelry Manufacturer and Retailer"
Store Hours: Monday - Friday 9 am - 5 pm
Saturday 8 am - 2 pm, and by Appointment

1869 Whitehaven Road, Grand Island, New York, 14072-1803 USA, 1-888-RARU.COM
Copyright © 1995-2013 All rights reserved.





<! ~~~~~~~~~~~~~~ New Tracker Code Below -- -- --~~~~~~~~~~~~~~~~~~~~~~~ >