Sesqui Grand Ball A Grand Success - see Story below

Click photos for a larger view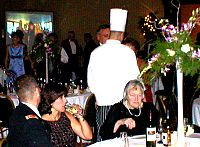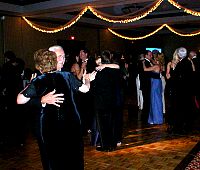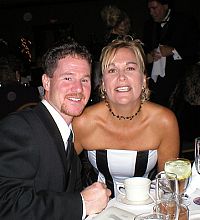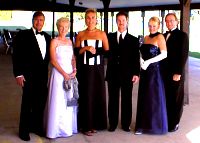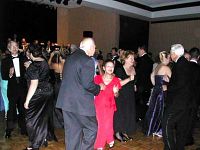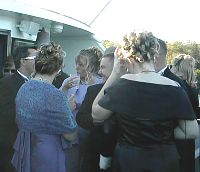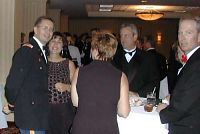 Art Baldwin Photos below - Click for larger view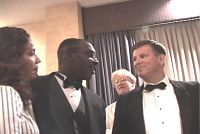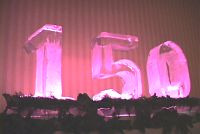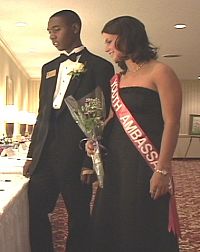 Barbi Lare Photos below - Click for larger view



By Sue Hillock
It was a very successful evening for Kathleen Graves and the Grand Ball Committee who took on the ominous task of planning the grandest event that Grand Island has ever seen. The Sesquicentennial Grand Ball was held Saturday, September 28, 2002 at the Grand Island Holiday Inn Resort and Conference Center and every detail of this spectacular evening was geared towards the enjoyment and pleasure of its 250 guests. The night began for some with Captain Rick Deegan aboard the Grand Lady, an eighty-foot long yacht-style luxury cruise vessel. Champagne was served as the ship embarked on a one-hour tour in the beautiful Niagara River.
Others attended a champagne reception and press conference in the Media Room where proclamations commemorating Grand Island's 150th birthday were presented from Town Supervisor Peter McMahon, Erie County Legislator Chuck Swanick, Assemblyman Sam Hoyt, Senator Byron Brown, Senator Charles Schumer, Congressman John LaFalce, Governor George Pataki, Erie County Executive Joel Giambra, and Amherst Town Supervisor Susan Grelick.
A classical pianist entertained in the lobby and guests enjoyed the Grand Island Art Society fine art display and silent auction. Sesquicentennial Memory Boxes showcased the wonderful talent of these local artists.
Cocktails and hors d'Oeuvres were served in the Riverview Room where a jazz ensemble entertained until the dinner hour. A magnificent display of food encircled a large swan carved from ice by Holiday Inn Food and Beverage Director Jeffrey Miller. A fiddler led the beautifully dressed crowd up the stairs and through the halls of the Holiday Inn into the Grand Ballroom. Jack and Mary West of Jackson Music designed lighting and special effects that took your breath away. Jeff Garbaz of Garbaz.com recorded the evening with digital photography and photo presentations were shown on a full size screen in the ballroom.
Stunning floral arrangements by Carolyn Grasser of Grasser's Florist graced every table. Three-foot tall crystal vases held a lavish display of orchids and white roses high in the air.
Chef Jeffrey Miller prepared an exceptional meal with cream of carrot and sweet potato soup, vine ripened tomato with Buffalo mozzarella, cold poached salmon, filet mignon, and chicken francaise. The service was impeccable as the white gloved wait staff poured Chardonnay and Pinot Noir into amethyst etched commemorative glasses. Strolling violinists serenaded every table. An elegant display of pastries, cakes, tortes, flans, mousses, and bombes along with fresh fruit and chocolate fondue filled the desert tables.
Tuxedos and sparkling ball gowns whirled around the dance floor to the "big band" sound of The Pyramid Dance Band. The eighteen-piece orchestra performed memorable songs from Armstrong, Dorsey, Ellington, Goodman, and Miller along with rock n' roll and other contemporary sounds.
It was a grand celebration for all who attended and one that will be remembered long after the dancing shoes are put away.
Happy Birthday Grand Island!


---
Other Grand Island Pages to Visit:
Churches | Email Directory | Government | Groups
GIHS Grad List | Guestbook | Please sign in! | Local Artists | New!Photo Album | Town History | UsefuLinks
| Website Design | Wildlife | Isedegrande'sHome Page | GIECOM.NET'S Home Page
Please Email News Releases to Teddy Linenfelser, Thank You.

This website was created and updated weekly since September of 1997.
Our sponsor is GIECOM.Net Inc., "Grand Island's E-Commerce Network",
providing Internet Access and Webhosting to the Grand Island Community.
If you are interested in participating as a sponsor, please email.
1871 Whitehaven Road, Grand Island, New York, 14072-1803 USA

GIECOM.Net Inc. is owned by deSignet International
a "World Class Jewelry Manufacturer and Retailer"
Store Hours: Noon-5PM Tues-Friday and Saturdays 10AM-3PM, and by Appointment
1869 Whitehaven Road, Grand Island, New York, 14072-1803 USA, 1-888-RARU.COM
Copyright © 1995-2002 All rights reserved.